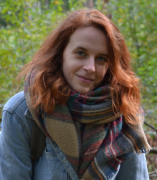 Teresa Borowski, Ph.D
Community and Prevention PhD
Department of Psychology
About
Teresa Borowski, PhD, is a recent graduate of the Community and Prevention Research program in Psychology at the University of Illinois at Chicago (UIC), where her research focused on social-emotional competence development, particularly through dance and other arts. In the MAD Lab, Teresa examined a key component of dance, synchrony, and its relation to aspects of social competence. This experimental research informed her applied research using dance to promote social and emotional skills with adolescents. She has collaborated locally with arts organizations such as Chicago Arts Partnerships in Education (CAPE) and nationally with leading scholars through her work at the Collaborative for Academic, Social, and Emotional Learning (CASEL). Her work has included study design, program development and evaluation, research-practice partnerships for school improvement, and theoretical framework analysis and dissemination. She is passionate about using movement and art to empower youth and communities with the skills they need to be successful and to create social change.
Selected Publications
Borowski, T. G. (2021). How dance promotes the development of social and emotional competence. Arts Education Policy Review. DOI: 10.1080/10632913.2021.1961109
Borowski, T., & Blyth, D. A. (2019, August). Guide to reviewing and rating SEL frameworks: An introduction to the descriptive series. Measuring SEL: Using Data to Inspire Practice. http://measuringsel.casel.org/wp-content/uploads/2019/08/AWG-Framework-Series-B-Intro.pdf
Jagers, R. J., Rivas-Drake, D., & Borowski, T. (2018, November). Equity and social and emotional learning: A cultural analysis. Measuring SEL: Using Data to Inspire Practice. https://measuringsel.casel.org/wp-content/uploads/2018/11/Frameworks-Equity.pdf
Borowski, T. G. (2017). Multilevel modeling. In A. Demos & C. Salas (Eds.), A language, not a letter: Learning statistics in R. https://ademos.people.uic.edu/Chapter16.html
Stack, S., Kral, M. J., & Borowski, T. (2014). Exposure to suicide movies and suicide attempts: A research note. Sociological Focus, 47(1), 61-70.
Education
M.A. Community and Prevention Research, University of Illinois at Chicago, Chicago, IL, 2018
B.S. Psychology, University of Illinois at Urbana-Champaign, Champaign, IL, 2012
Professional Memberships
American Educational Research Association
Chicagoland Evaluation Association
Midwestern Psychological Association
Phi Beta Kappa Society
Society for Community Research and Action
Research Currently in Progress
Borowski, T. G., Carsel, T. S., & Demos, A. P. (Revise and Resubmit). Jazz hands: Dance instruction, synchrony, and social outcomes. Psychology of Aesthetics, Creativity, and the Arts.
Borowski, T. G., Allaham, M., Morelli, S., & McKown, C. (In preparation) Social-emotional comprehension and social network position in the early elementary grades: A multi-trait multi-method (MTMM) approach.