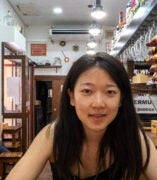 Emma Ning, M.A.
Graduate Student
Department of Psychology
Pronouns: she/her
Contact
Building & Room:
Behavioral Sciences Building 1015
Email:
CV Download:
About
Emma is a second-year Ph.D. student at University of Illinois-Chicago. Her work explores musical affect and its role in performer-listener relationships. She is also part of the BiAffect team (collaboration with UIC Psychiatry's CoNECt lab: http://brain.uic.edu/)
Selected Publications
Emma Ning, Andrea Cladek, Mindy K. Ross, Sarah Kabir, Amruta Barve, Ellyn Kennelly, Faraz Hussain, Jennifer Dufecy, Scott L. Langenecker, Theresa Nguyen, Theja Tulabandhula, John Zulueta, Olusola Ajilore, Alexander P. Demos, and Alex Leow. 2023. Smartphone-derived Virtual Keyboard Dynamics Coupled with Accelerometer Data as a Window into Understanding Brain Health: Smartphone Keyboard and Accelerometer as Window into Brain Health. In Proceedings of the 2023 CHI Conference on Human Factors in Computing Systems (CHI '23), April 23–28, 2023, Hamburg, Germany.
Ross, M. K., Tulabandhula, T., Bennett, C. C., Baek, E., Kim, D., Hussain, F., Demos A.P., Ning, E., Langenecker, S.A., Ajilore, O. & Leow, A. (2023). A Novel Approach to Clustering Accelerometer Data for Application in Passive Predictions of Changes in Depression Severity. Sensors, 23(3), 1585.
Education
B.A. Smith College, Northampton, MA, 2019
M.A. New York University, New York, NY, 2021
Professional Memberships
Association for Computing Machinery (ACM)
ACM Special Interest Group on Computer-Human Interaction (ACM SIGCHI)
American Association for the Advancement of Science (AAAS)
Research Currently in Progress
Do listeners feel the same emotions as the performer?
We listen to music to maintain our cultural/social identities, relax, enjoy, and bond with others emotionally (Savage et al., 2021). To understand the processes that might underlie emotional bonding, past research focuses on how musical elements impact emotions through a series of bottom-up responses and higher-level appraisals (Juslin & Vastfjall, 2010; Huron 2007). However, these approaches do not account for the critical role performers play in inducing emotions in listeners. To test the role of the performer in inducing emotions, I have designed and piloted two studies. The first examines the arousal states of the performer during performance using skin conductance (GSR). The second examines arousal states of the listener hearing the performance. Using recurrence quantitation analysis, I will look for similarities in arousal states (measured by GSR) between the performer and listeners.
Artistic and Professional Performances and Exhibits